Be Active, Stay Fit!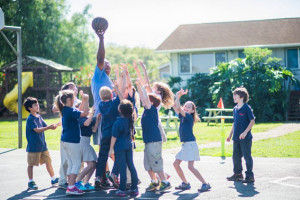 Physical Education is an opportunity to put to practical use the standards of behavior set forth in the classroom.  The emphasis is on fair play and mastery of fundamental sports skills. The students learn independence, leadership, responsibility, and a respect for the rights and property of others. They learn also that physical fitness is a way of life, not merely a leisure activity.
Carden Academy of Maui offers a comprehensive physical education and athletics program that emphasizes personal achievement, teamwork, and sportsmanship.   Students learn the rules and strategies of sports and games. They also learn about the importance of physical activity to support a healthy lifestyle.
---
Athletics Director &
Physical Education Teacher (PK – 5)
---


Physical Education Teacher (6 -8)

Ryan Olden
rolden@cardenmaui.org
Ryan Olden joins Carden Academy teaching Middle School P.E. in January 2020. He has been coaching junior tennis at Maui Country Club since 2017 and is active in their youth programs and camps. Since his first high school job as a swim instructor, he has always enjoyed working with kids and is excited to continue by joining Carden Academy. He likes seeing youth gain confidence and develop character through sports. This led to his interest in strong and safe movement for sports to not only improve performance, but also foster healthy movement for a lifetime.
A Tropical Plant and Soil Science major at UH Manoa, he has also worked in sustainable farming for seven years. When not working, he likes to spend time with family and friends, play slack key guitar, and be in the ocean.